10 Essential Steps to Developing Your Social Media Strategy
A few weeks ago I gave a short presentation to a networking group in Orlando called Coffee Club. I want to share my outline with you here as well.
10 Essential Steps to Developing Your Social Media Strategy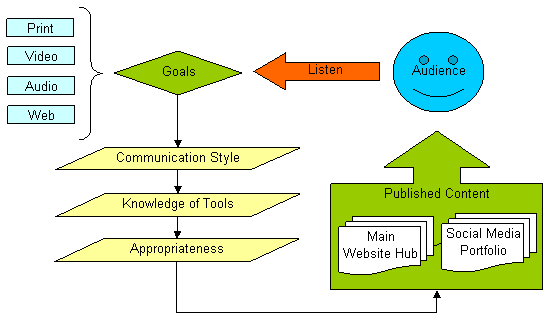 Understand communication channels change – Landmark changes include the print press, telephone, television, and radio. Web communication channels are a microcosm of the broad changes.
Set a goal – If you don't know what you want to do, don't start doing it.
Know your audience – Where are they online? How do they like to receive communications? Be prepared to go where they are.
Know your communication style Where do you excel? If your audience prefers communication in a style you aren't well equipped, then outsource it.
Learn what tools do what – All social media sites are tools; knowing how these tools work and when to use them is crucial. Similar to knowing when to use a rubber mallet vs a sledge hammer – they are both hammers, but they work differently for different purposes.
Decide personal vs. professional – Make your decisions about what you want to share and what not to share. It's okay to mix private and personal lives online, but do it appropriately.
Be ready to listen and respond – There are way too many tools to not be listening to what is being said to you, about you, your competitors, and your niche. Pay attention and interact appropriately.
Graph your social graph – This steps helps me to flowchart my web properties so I can see the big picture of how they are all interconnected.
Have a hub – It's best to have one website to serve as the got0 place. All profiles should be linked and/or syndicated onto the hub. This makes things less complicated, especially for marketing.
Consolidate SM accounts – You don't have to have an account for everything. Focus on one per niche to get started.
Aggregate into a lifestream – Because our social media profiles are so scattered, it's great to have one place to pull it all together into a lifestream.