An Online Strategy Breakdown
I was reading today about The Disconnect in PPC vs. SEO Spending on the SEOmoz blog and found a very interesting conclusion:
Conclusions: SEO drives 75%+ of all search traffic, yet garners less than 15% of marketing budgets for SEM campaigns. PPC receives less than 25% of all search traffic, yet earns 80%+ of SEM campaign budgets.
If you're unfamiliar with what SEO, PPC, and SEM are, let me quickly explain:
SEO = Search Engine Optimization. It's the marketing disciple of how to get websites to show up high in the search engines' organic listings (that's the normal search results you use after a search)
PPC = Pay Per Click. It's the marketing technique where you buy advertisements to show up on the side of a search engine's sponsored links (that's the ads sometimes at the top or on the right side of a search results page)
SEM = Search Engine Marketing. It's the Internet marketing strategy that is often a combo of SEO & PPC techniques.
Personally I believe that social media is it's own discipline inside of an online marketing strategy.
Back to the conclusion that SEOmoz came to: Look at this heat map results from a study of where people typically look on a search results page: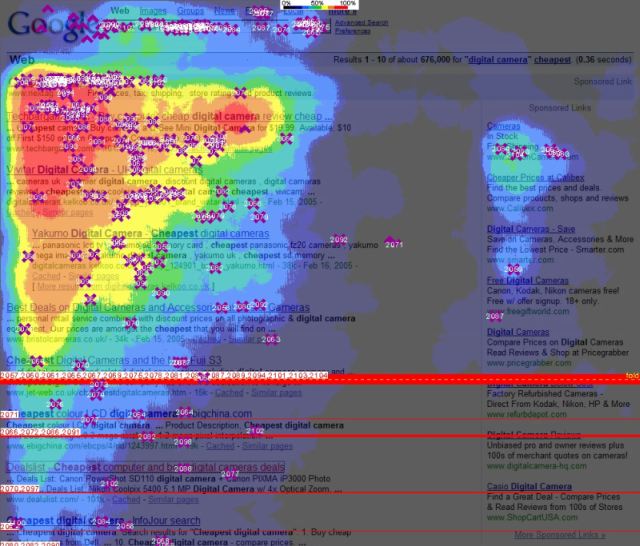 You'll probably notice that most people look at the first few results in the organic (SEO section) than look at the ads (PPC section).  I'm sure you didn't need an image to prove it – you already know that from your own use of Google.
So why do companies like to spend the bulk of their budget on something less reliable? I think there is a perception that it's easier to pay for ads.
It's tough to show up in the search engines well.  It takes work but is obtainable.  It takes someone who knows what they are doing to optimize a website so that it ranks well.  When you rank well you show authority and relevancy without paying for it.  Most people assume that's better than someone paying to rank well.  And our experience has taught us that the organic listings are reliable.  It's just how Google works.
I believe there is a place to use Pay Per Click techniques.  It can work effectively if done well.  That's why it takes a good overall strategy incorporating SEO, PPC, and Social Media (SM) when appropriate.  It all comes back to your goals and your audience.
If you are ready to be more effective with your website, let us know.  We take a full, overall approach and use what is best for the job.  Not all strategies are created equal so let us help you figure it out and get it done.