B2B and B2C Are Really P2P (don't forget the individual)
Last week I attended several events where at least one issue has come up over and over and it's in regards to how businesses and people interact with each other. B2B and B2C are really P2P. Translated: Business to business and business to customer are really people to people interactions. I've bolded these themes from my notes from these events.
First was an Atlanta conference called SoCon'09.  
It was a gathering of about 325 folks, mostly in the area, who all are either social media practitioners or want to learn more about using it for business purposes.
I recorded my post-conference thoughts on my drive back from Atlanta to my family's home in Greenville, SC.
One of my take-aways came from a breakout session called "B2B Social Media".  I chose to attend it because I had hoped to learn some of the differences in using social media with businesses vs. individuals. Coming out of the session I felt confirmed that at the heart, b2b and b2c are really about the same because we're all individuals connecting with each other.
Which leads me to the next event I attended: Social Media Club of Greenville.
Patricia and I both attended the early morning downtown Greenville, SC, event for the Social Media Club. Olivier Blanchard (aka The Brand Builder) talked with us about what social media is and is not.  He graciously provided his notes on his blog which I recommend you take a moment to read through.  However, here are some of my take-aways:
Throughout the history of communication, we have always craved connection 
Geography and time priorities have displaced our ability to share and connect; technologies help us span those gaps with social media being the latest
Not listening is expensive = conflict = ignorance = disconnected
The era of the monologue is dead
Engagement is not a campaign
Your client is always a person so we connect by p2p (person to person)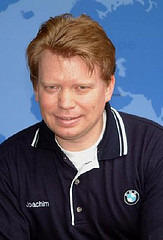 Later in the week I attended the Greenville-Spartanburg-Anderson Technology Council (GTATC) "learning lunch".  The keynote speaker was Dr. Joachim Taiber, Head of the Information Technology Research Office of the BMW Group Information Technology Research Center in Greenville.  What I found most intriguing by Dr. Taiber was if first couple of foundational points BMW uses for innovation:
Find the right talent
Identify the right technologies and adapt them to the business needs
As I understand him, BMW's innovation strategy is to match the right people with their goals then find the best technologies to get it done.  (This is the same model we use as well in creating an Internet strategy for people. It's a sound foundation.)
Also during the week I had a conversation with my friend Trey Pennington of Showcase Marketing where he had a great point about the concept of p2p when he said that a business never makes a decision — it's always a person at that business that decides.
While I was getting all my thoughts together from the week I ran across an article and decided to quote it in my post Social Media vs Internet Strategy.  In the article the author states:
Social networking is about people engaging with people. Individuals do not want to build relationships with brands and corporations. They want to talk to other people.
My friend Kevin had an excellent reply saying:
… *SOME* individuals do not want to build relationships with brands and corporations…[they are] more comfortable having a relationship with a company than an individual.
And I think this is where it all concludes – that at the base of it all, individuals interact with individuals.  There is always a person behind a corporate brand be it the advertiser, public relations representative, or customer service rep.  Even still, many don't care about the individuals behind those brands, just that the businesses follow through with what they say they will and treat us like human individuals.
So whether you are a business dealing with a customer or another business, we still treat each other like individuals.  I guess it goes back to the old Golden Rule.  Even though brands may build relationships with individuals (and vice versa), we can fall into a trap when we don't see others as people but as a vast entity whom we expect to meet our needs or buy our stuff.