My Twitter Accounts and How I Listen
I've had as least one twitter account for over 2 years now. I now have 4 accounts that I keep up with with different strategies for different purposes. This post is almost like a case study of these accounts since I use each one for a different reason. Hopefully you'll also get new ideas of how you can use Twitter as well.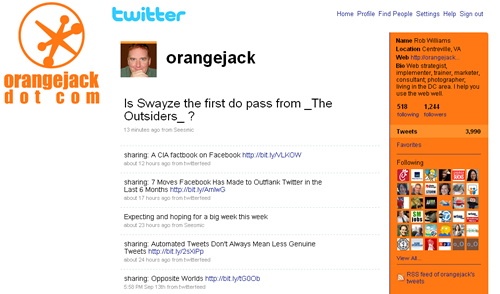 Started: June 2, 2007
Purpose: Personal account sharing things about me and interesting items I find online. Main account for interacting with others.
Listen Strategy: Only follow people I know and/or find interesting spanning various niches. Usually will not follow people back if their Twitter profile isn't filled out completely. Since it's difficult to listen to hundreds of people, I am very selective to whom I listen.
Follow/Following/Tweets: 520/1244/3991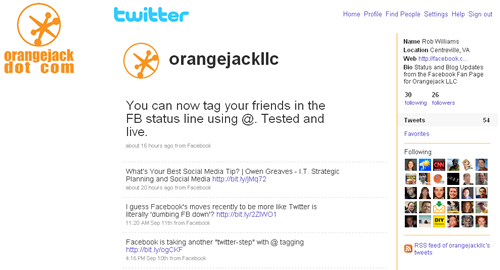 Started: July 6, 2009
Purpose: Business account that automatically combines my blog updates and my Facebook Page updates into one place via Twitter
Listen Strategy: Only follow those I don't mind endorsing from a business perspective. Not all are necessarily social media leaders, but all are using twitter well. They are informative, personal, and purposeful. Listening to this group helps me filter out the noise from my personal account.
Follow/Following/Tweets: 30/26/55
@lostsoup – blog updates about the show LOST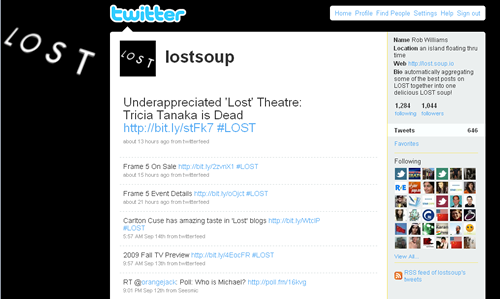 Started: Jan 29, 2009
Purpose: Started as a notification system for updates on the LOSTsoup Blog but I've used it for some interaction with other fans of the show LOST.
Listen Strategy: Started by following people who tweeted about LOST using the hashtag #LOST. Later I experimented using SocialToo in order to auto-follow those who follow the account. I made that choice because when someone follows, it's not always evident whether they are fans of the show or not. I don't want to exclude a LOST fan from being about to direct message me via lostsoup. However, since the number of people followed is so high, I usually filter the conversations by those hashtagging their posts with #LOST.
Follow/Following/Tweets: 1284/1048/646
@clemsonfootball – Clemson football news and game-day live updates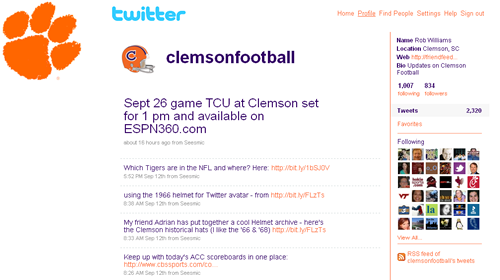 Started: Aug 28, 2007
Purpose: Post game-day live updates and occasional news updates — little commentary
Listen Strategy: First I started following known Clemson fans on Twitter. However, it is difficult to know which of my followers are Clemson fans, so I tried following everyone who followed me. Later I experimented using SocialToo in order to auto-follow those who follow the account. Lately I search for people talking about Clemson on Twitter and if it seems they are interested in Clemson football specifically, I follow them. Listening can be difficult since the people I follow don't always talk about Clemson football. Therefore I use twitter search to filter the conversations.
Follow/Following/Tweets: 1007/834/2320
How I'm Listening
Since I have so many things I want to listen to on Twitter, I have found using tools to help me impossible to live without. Currently I'm using Seesmic Desktop to manage my Twitter accounts. Below is a screenshot of the tool and you should notice 4 columns – one for each of my accounts and the different ways I listen to each.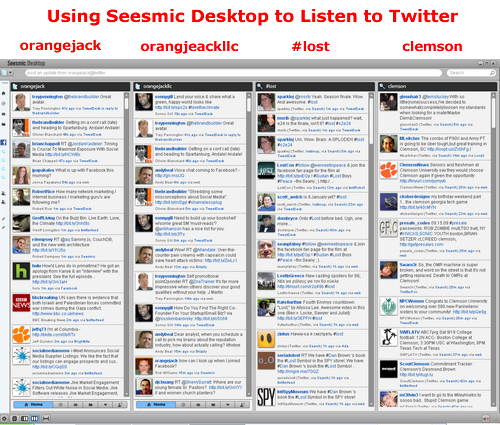 In the first column, I listen to everyone I follow with @orangejack. The second column are all I follow with @orangejackllc. The third column is a search for everyone using the hashtag #lost. The fourth is a search for anyone talking about Clemson.
Seesmic Desktop allows me to listen in these columns, then publish or respond to anyone from any of my four accounts.
PS. For further reading…
Recently there was a change to the Twitter Terms of Service (TOS). Mashable talks about the sorts of accounts you won't see on Twitter in the future. If you read that, be sure to read Louis Gray's reply about automated Twitter accounts.